Shipping Info
When can I expect my order?
The processing time depends on several things: the type of order, whether your order is complete (Do we have your prescription and PD?), and when you place it. 
We offer FREE standard shipping on all orders over $50!
Here's what you can expect: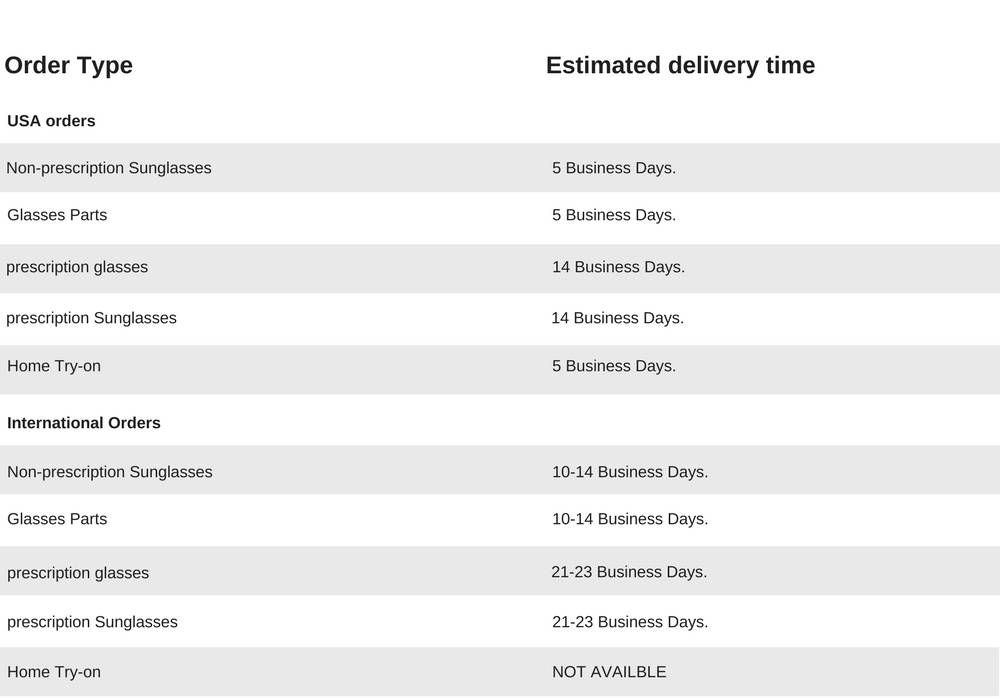 What does shipping cost?
Shipping is free worldwide on orders over $50. basic shipping cost is $5.00 in the US and $15.00 internationally.
Can I get my glasses expedited?
expedite shipping is available only for non-prescription Items. 
What is your return policy?
We have a 30-day, no-questions-asked return or exchange** policy for all of our eyewear. If you aren't satisfied, we can set you up for a full refund or an exchange within 30 days of receipt. Additionally, we have a Lifetime Warranty on all of Shaka's frames and non-prescription lenses. Prescription lenses are not covered under our lifetime warranty program! Gift card purchases are non-refundable.
**Prescription lenses and other custom orders cannot be refunded or exchanged.
(Note: Refunds will be credited to the original payment method.)
How do I set up a return or exchange?
For Returns, Please click here to start your Return request.
If you would like to exchange your Item, email us atService@shaka-glasses.com so we can get started on the exchange process. We'd love to hear your feedback too.
What do I do if I'm experiencing issues with my prescription?
Sometimes it takes a few days to adjust to a new prescription, but if you're having ongoing trouble with your glasses, email us atService@shaka-glasses.com. We'll help determine the issue so that we can re-make your glasses and make sure that your prescription is just right!